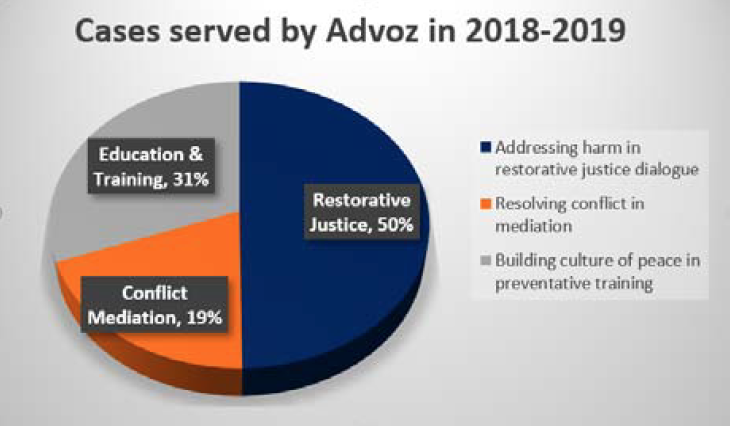 Your dollars were a long-term community investment as we concentrated on core programs in mediation and restorative justice. Staff coordinated an impressive team of volunteer mediators in more than 350 cases of dialogue and training, serving more than 700 youth and adults. With the majority of our cases focused on addressing harm in restorative justice dialogue, many of our resources addressed this area of core services for people harmed and those who've caused harmed to find healing and make things right through dialogue.
Advoz's last fiscal year began June 1, 2018, with challenges–too many referrals and too few trained mediators. By year-end, May 31, 2019, we were seeing stronger outcomes in core programs and an increase in the number of cases leading to breakthrough dialogue. Thanks to new volunteer mediators and strong partners, especially the office of Juvenile Probation, we are accomplishing more effective dialogue in our community.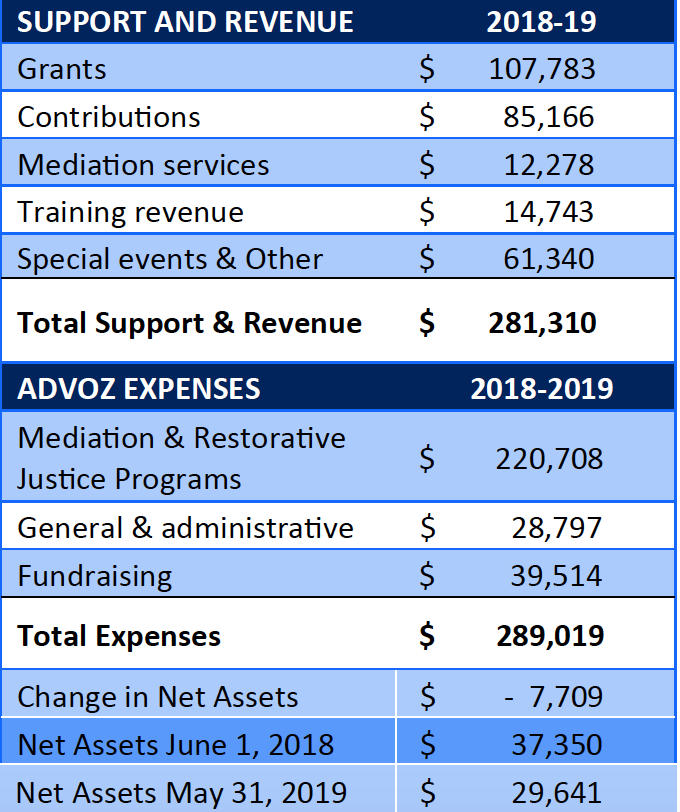 Advoz leveraged more than 80 trained volunteers in working with 300+ cases this year. The above budget doesn't reflect this volunteer time, only cash spending on core programs and services, much of which comprised of core professional staff to recruit, train, supervise and report on volunteer mediation work. The fiscal year budget represented a relatively stable year-to-year performance. However, 2019-2020 is already showing exciting growth that will allow Advoz to expand programs and realize our transformative potential.